AT THE HEART OF CSR
SOCIAL
AT THE HEART OF CSR
SOCIAL

AT THE HEART OF CSRE
SOCIAL: PEOPLE,
OUR ADDED VALUE

Our greatest wealth is our employees. Because they are key to our development and our success, we take care to integrate them on a long-term basis and to support their ambitions within the group.
In our teams, we advocate mix and diversity:
OF EMPLOYEES UNDER THE AGE OF 25
OF EMPLOYEES PROMOTED IN 2 YEARS
PERMANENT EMPLOYMENT CONTRACTS SIGNED IN 2019
OF EMPLOYEES OVER THE AGE OF 55
MENTORING SCHEME TO SUSTAIN
OUR RECRUITMENT
To accompany people when they join our group, we encourage the integration of new employees:
All new employees are accompanied by an experienced employee to learn the job, get to know their working environment, adopt safety, hygiene and health rules.
ATTENTIVE TO OUR EMPLOYEES
We do our utmost to ensure that employees who want to progress can:

Development of skills thanks to the yearly training plan.

Professional interviews to review their career path, their skills, their expectations in terms of geographical mobility and career development and their training needs.

Attractive compensation policy that contributes to the motivation and loyalty of employees.

2 058
TRAINING HOURS DELIVERED IN 2019

100%
OF EMPLOYEES RECEIVED A PAY INCREASE IN THE 6 MONTHS FOLLOWING THEIR RETURN FROM MATERNITY LEAVE
IT'S GOOD TO WORK AT BURBAN PALETTES!
AN EMPLOYEE SATISFACTION SCORE OF 15/20 IN 2020
IT'S GOOD TO WORK AT BURBAN PALETTES!
AN EMPLOYEE SATISFACTION SCORE OF 15/20 IN 2020
OUR VALUES GO BEYOND THE COMPANY:
FOR PROFESSIONAL INTEGRATION AND EMPLOYMENT
As part of the "Entreprises et quartiers" charter signed in December 2018, we invest in the economic and social development of priority neighbourhoods through actions for their residents focused on education, academic guidance, employment, integration and training.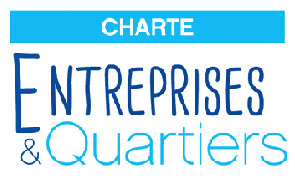 Since 2018, we have provided financial support to the Red Cross in favour of the most disadvantaged populations.
On 21 November 2019, a cheque for €6,400, i.e. the value of 15 pallets of food and hygiene products, was given to the Loiret Red Cross.
In our premises, bottle tops are collected by the "Les bouchons de l'amour" association to finance the purchase of equipment for disabled people.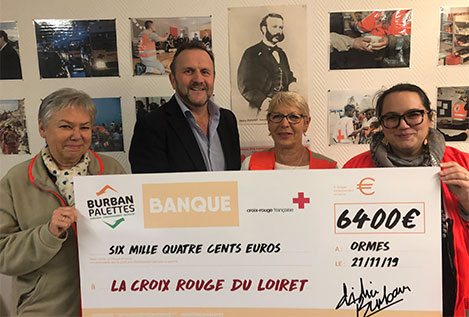 BURBAN PALETTES
OUR BRANCHES

Find the contact details of the different BURBAN PALETTES sites.
VALORPAL and REI all over France